"
Friends of Leonia
"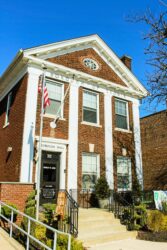 Office: 201-944-0508
312 Broad Avenue
Leonia NJ 07605
In 1668, Leonia was settled by the English/Dutch. It is one of the oldest communities in New Jersey and in the United States. To learn more about Leonia history, please visit our Borough History page.
Today, Leonia is a historic, diverse, walkable, tree-lined community. A perfect place to live, work, and play, Leonia is home to beautiful historic housing neighborhoods, a walkable central business district with transit options, a fabulous public school system, and plenty of nearby open space and recreational opportunities, including Overpeck County Park.
To help new residents get acquainted with our town, the Leonia Welcome Committee has put together a landing page to point you to important phone numbers, applications, and much more.
Complete the form below to learn more about Approved Funding, including our exclusive benefits for Friends of Leonia.
As "A Friend," by completing this form, you will automatically be entitled to the following:
A donation on your behalf to the

Leonia

A Free Credit Report and FICO score analysis
30-minute complimentary Financial Consultation
No Application Fees for any loans with Approved Funding
No Processing Fees for any loans with Approved Funding