Shmuel Shayowitz (NMLS#19871) is President and Chief Lending Officer at Approved Funding, a privately held local mortgage banker and direct lender. Shmuel has over two decades of industry experience, including licenses and certifications as a certified mortgage underwriter, residential review appraiser, licensed real estate agent, and direct FHA specialized underwriter. Shmuel provides a uniquely holistic approach to comprehensive real estate and financial matters that goes well beyond any single transaction. Shmuel is an award-winning financier recognized for maximizing the short-term and long-term objectives of his client. As a contributing writer to many local and regional newspapers and publications, his insights have been featured in the media for many topics, including mortgages, personal finance, appraisals, and real estate trends.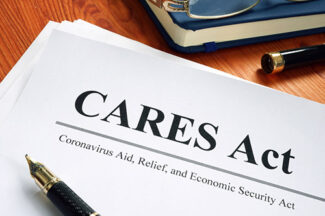 We have always lived in a very noisy world. That world has only gotten louder with the Covid-19 pandemic. On the one hand, information is accessible like never before, but the vast noise to get what you need is deafening. As the world continued to adapt to the necessary social distancing requirements, the necessity to truly be connected to resources and information has never been more critical.
Over the past few weeks, in addition to making all of the necessary adjustments needed on a personal and professional level to adapt to the impact of the Coronavirus, I have increased my effort in disseminating information online and via social media. I have conducted frequent webinars and conference calls to communicate some of the many changes in the financial and mortgage markets to help consumers and professionals navigate circumstances in real-time. As I speak to more and more people daily, I continue to find that so many are unable to take action because they are frozen by information overload and confusion.
The legislation and regulations are irrelevant for the average consumer, so I will focus on the most important aspects that need to be known. On March 27th, The Coronavirus Aid, Relief, and Economic Security ("CARES") Act was passed by Congress offering an economic relief package to protect the American people from the public health and economic impacts of COVID-19. The CARES Act provides fast and direct economic aid for American workers, families, and small businesses, and aims to preserve jobs for many industries. It was the first of many actions taken by the government and federal reserve in offering financial assistance during these times.
Clearly, a lot of thought and effort are going into trying to help those impacted most. Yet, through all the noise, so many are not getting the message of how they can be helped. While there are many corporate and business efforts in the CARES Act, I will do my best to try to focus on some of the most important protections and benefits that individuals should be aware of as a result of the relief efforts. I have taken the time to gather information from reputable resources, such as the U.S. Department of The Treasury, Consumer Financial Protection Bureau, as well as other governmental websites, and will attempt to relate this information in an easy-to-understand manner.
Utility and Lifeline Disconnections
Many states have suspended public utility disconnections. For those with financial hardships, you should check with your specific state utility commission or your local utility to see what protections or relief may be available. Municipal utilities and Rural Electric Cooperatives (REC) may be covered by your state's emergency proclamation. They may also have their own COVID-19 disconnection policy. Check with your municipal utility or REC for details. Additionally, Lifeline terminations are suspended. Lifeline is the FCC's program to help make communications services more affordable for low-income consumers. To help keep Americans connected during the coronavirus pandemic, the Federal Communications Commission (FCC) has temporarily waived Lifeline usage requirements and general de-enrollment procedures until May 29, 2020.
Student Loans
The CARES Act provides automatic suspension of principal and interest payments on federally-held student loans. From March 13 through September 30, 2020, the interest rate is set to 0%, and payments are suspended for student loans owned by the federal government. These suspended payments will count towards any student loan forgiveness program, as long as all other requirements of the loan forgiveness program are met. Unlike other debt types, federal student loan servicers will automatically suspend all interest and payments without any action required from you. You do not need to contact your student loan servicer. For those who made a payment after March 13, you can request a refund, or any payments you made or make after March 13 can be applied directly to the principal.
Credit Card Debts and Credit Reporting
The CARES Act imposed special requirements on creditors that report their payment information to credit reporting companies. You must contact your creditor and request an "accommodation" to defer a payment, make partial payments, forbear delinquency, modify a loan, or some other relief consideration. How your creditors report your account to credit reporting companies depends on whether or not you were current before the accommodation. If your account was already delinquent and you make an agreement, then your account will maintain that status during the agreement until you bring the account current. If your account is already delinquent and you make an agreement, and you bring your account current, the creditor must report that you are current on your loan or account. If your account is current and you enter into an agreement with your creditor, they will be required to report that you are current on your loan or account. This applies only if you are meeting the terms of the agreement. This CARES Act requirement applies only to agreements made between January 31, 2020, and the later of either 120 days after March 27, 2020, or 120 days after the national emergency concerning COVID–19 ends.
Protection for Renters and Tenants
If you are renting from an owner who has a federally backed mortgage, the CARES Act provides for a suspension or moratorium on evictions. If your landlord has a federally backed mortgage or multi-family mortgage, you cannot be evicted for nonpayment of rent for 120 days beginning on March 27, 2020, the effective date of the CARES Act. After the 120 days is up, the landlord cannot require you, the tenant, to vacate until providing you with a thirty-day notice to vacate. If the property you rent isn't covered by the CARES Act, many states have suspended all evictions and foreclosures due to the pandemic. One should check the websites of your state government, state court, or legal aid program for details and updates.
Mortgage Relief and Forbearance
The CARES Act put in place two protections for homeowners with federally backed mortgages.
First, your lender or loan servicer may not foreclose on you for 60 days after March 18, 2020. Specifically, the CARES Act prohibits lenders and servicers from beginning a judicial or non-judicial foreclosure against you, or from finalizing a foreclosure judgment or sale, during this time.
Second, if you experience financial hardship due to the coronavirus pandemic, you have a right to request a forbearance for up to 180 days. Forbearance is when your mortgage servicer or lender allows you to pause (suspend), or reduce your mortgage payments for a limited period while you regain your financial footing. Forbearance doesn't mean your payments are forgiven or erased. You are still required to repay any missed or reduced payments in the future. Make sure you understand how the forbearance will be repaid. There can be different forbearance programs or options, depending on the type of your loan. You must contact your loan servicer to request this forbearance. There will be no additional fees, penalties or additional interest (beyond scheduled amounts) added to your account. You do not need to submit additional documentation to qualify other than your claim to have a pandemic-related financial hardship. After the 90-180 day forbearance period, you must contact your servicer to repay the missed payments or to otherwise work out a repayment plan. It is at that time that your repayment agreement with the servicer will impact your credit. I can not emphasize enough that modifications, settlements, and loan restructuring will have a direct impact on your credit report.
The above represent a few of the consumer-focused areas that have been offered reprieve during these challenging times. Unfortunately, information is coming at a rapid speed and indirectly making its way to people's eyes and ears through the media. As such, the messages are often overlooked or misconstrued. My advice is to rely on a resource that truly "cares" about your wellbeing as you consider your options and decisions during these turbulent times. Shout out to my team at Approved Funding for their tireless efforts during these times.
To learn more about Shmuel Shayowitz, click here or complete this form to be connected with Shmuel: