Shmuel Shayowitz (NMLS#19871) is President and Chief Lending Officer at Approved Funding, a privately held local mortgage banker and direct lender. Shmuel has over two decades of industry experience, including licenses and certifications as a certified mortgage underwriter, residential review appraiser, licensed real estate agent, and direct FHA specialized underwriter. Shmuel provides a uniquely holistic approach to comprehensive real estate and financial matters that goes well beyond any single transaction. Shmuel is an award-winning financier recognized for maximizing the short-term and long-term objectives of his client. As a contributing writer to many local and regional newspapers and publications, his insights have been featured in the media for many topics, including mortgages, personal finance, appraisals, and real estate trends.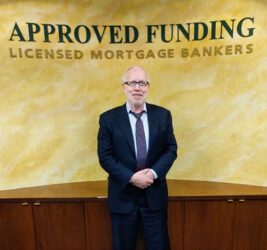 (Courtesy of Approved Funding) Approved Funding is proud to announce Zev Lewinson as the newest member of their growing mortgage banking team. Aside from his many years in mortgage lending, Zev is an accomplished marketing guru, skilled writer and published author.
While still sporting a full head of dark hair, Zev studied history and philosophy at Johns Hopkins University and Talmud at Ner Israel Rabbinical College. He then muscled his way into many rewarding and exciting vocations, including two successful online startups in the Diamond industry and Mortgage Lending.
All the while, Zev's passion has been writing and teaching which he still fosters through his publishing company which he still maintains. His creativity and resourcefulness have fostered many longstanding relationships and multi-generations of raving fans. "Zev's inventive and unique talents and his thirst to help others are so complementary to what we offer our clients," explains Shmuel Shayowitz, president of Approved Funding. "We are excited to have Zev's life experiences and skills at Approved, and know that he will see great success with all of our great tools, products and resources!"
Zev's eclectic background make him the perfect fit for a company that can tailor and create a one-of-a-kind loan for any situation in which a client finds himself. "In my own life, I've had many ups and downs (with my credit score ranging from 520 to 780) and I specialize in 'less than perfect credit' scenarios," Lewinson explains. "I know 'life can get in the way,' and I'm passionate about helping people get back on their feet and into the home of their dream."
"Great credit or temporarily poor credit is not an issue at Approved Funding," adds Lewinson. "We are direct lenders and have many unique options to finance your dream home. The scenarios we've closed are almost as varied as the mind can imagine. We not only meet your mortgage needs – we meet them in creative ways that you can't imagine."
Zev Lewinson, NMLS#1072291, can be reached at (201) 833-0123 or by cell at (845) 300-6127. You can contact him via email at Zlewinson@approvedfunding.com.
To learn more about Shmuel Shayowitz, click here or complete this form to be connected with Shmuel: