Elena Rabinovitch – Mortgage Banker – Approved Funding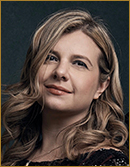 Elena began her mortgage banking career after moving from Israel where she lived since the age of eight. In Israel, she graduated with honors from The Hebrew University of Jerusalem, prior to relocating to America a few years ago. "I have always been passionate about business, marketing and real estate", says Elena, so the transition into mortgage lending was an easy and practical decision. "What I enjoy the most about being a loan originator is the satisfaction that comes from helping people."
Elena has a keen understanding of the real estate market and economic conditions, so she is able to seamlessly help her clients get the best loan, with the best possible terms. Elena has quickly earned the reputation as someone who patiently attends to her clients' goals and is skillfully able to navigate and manage the mortgage process from the start until closing. Elena is enthusiastic to combine her skills, with the offering available at Approved Funding, to bring even more value to her clients and referral sources.
Another unique strength of Elena is her fluency in Russian, Hebrew and English which is able to ease the nerves of clients with similar backgrounds, who are already unfamiliar with the complicated technical terms of a home-buying transaction or a loan process. This is even more overwhelming for those who do not have a fluency in English. Elena is skillfully able to advise and guide her clients into making the best possible decisions every step of the way without pressure and compulsion. Her interests first and foremost are always the needs of her clients, which is visible to all.
Since joining Approved Funding a short time ago, Elena has already been able to deploy the broad loan product menu and unique marketing platform to help her clients, referral sources and business partners see success. Adds Elena, "My team and I will take care of everything, striving to make sure the process is as stress-free as possible. Count on us for the best rates, most competitive loans and superior service".
Elena Rabinovitch
Mortgage Banker, NMLS #1412373
201-833-0123 office
201-888-4591 mobile
201-833-0150 fax
www.approvedfunding.com/erabinovitch