"
Friends of Ahavat Torah
"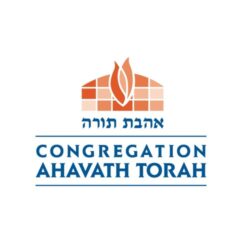 Office: 201-568-1315
240 Broad Ave
Englewood, NJ 07631
In 1895, the idea of an orthodox synagogue in Englewood, NJ was conceived by a nucleus of eight pioneering families. These visionaries succeeded in laying the groundwork for the vibrant, burgeoning Congregation Ahavath Torah of today.
In the absence of a synagogue building, after acquiring a Sefer Torah for the sum of one hundred and thirty dollars, the founding group began conducting services in each other's homes. Following these early successes, they rented space to accommodate their minyanim on Armory Street, and subsequently on Durie Avenue, an area of town where most of the Jewish families resided.
Since Kosher provisions were unavailable in Englewood at that time, one of the synagogue stalwarts traveled to New York to procure Kosher provisions for the entire neighborhood. Traveling to New York required arduous effort since the George Washington Bridge had not yet been built. Reaching New York from Englewood required a journey by trolley to Edgewater, followed by a ferry to One Hundred Twenty-fifth Street.
By 1911, Ahavath Torah had increased its membership to fifty families, thereby becoming a center of Jewish activity in northern New Jersey. A property was purchased for two hundred dollars at 33 Humphrey Street where a synagogue was erected on a lot measuring 18×30 feet. Kosher meat also became available in the town, through the efforts of local butchers who slaughtered and "koshered" their own meat and chickens.
The steady influx of Jewish families soon rendered the existing synagogue facility inadequate and an old church building was acquired on Englewood Avenue for fifteen hundred dollars. This became the seat of Ahavath Torah until 1958, when it became clear that the needs of the congregants, and changes in demography necessitated a larger, more expansive house of worship.
The estate of Baroness Cassel Van Dorn at 240 Broad Avenue was purchased for the sum of fifty-five thousand dollars by a forward-looking courageous membership; thenceforth, they embarked upon the construction of a new sanctuary. The relocation was celebrated by a march through the streets of Englewood with the Sifrei Torah being transported to their new home.
Rabbi Isaac Swift, O"H, who became the revered spiritual leader in 1960, led the community through an exciting period of growth and expansion until his retirement twenty-four years later. In an interview in 1982, Rabbi Swift characterized the community by stating: "The loveliness of Englewood is not the uniformity, but the unity of the community."
In 1984, Rabbi Shmuel Goldin became the rabbi and has assiduously nurtured the synagogue's unique character of unity and diversity. 
Ahavath Torah, with its seven hundred member families, as it stands today at the dawn of the twenty-first century, could not have been foreseen or imagined in size or scope; but despite its remarkable growth, it strives to preserve the warmth and spirit of its founders.
Complete the form below to learn more about Approved Funding, including our exclusive benefits for Friends of Ahavat Torah.
As "A Friend," by completing this form, you will automatically be entitled to the following:
A donation on your behalf to Ahavat Torah
A Free Credit Report and FICO score analysis
30-minute complimentary Financial Consultation
No Application Fees for any loans with Approved Funding
No Processing Fees for any loans with Approved Funding