"
Friends of Bogota
"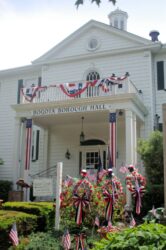 Office: 201‑342‑1736
375 Larch Avenue
Bogota NJ 07603
Bogota is a borough in Bergen County, New Jersey, United States. As of the 2010 United States Census, the borough's population was 8,187, reflecting a decline of 62 (−0.8%) from the 8,249 counted in the 2000 Census, which had in turn increased by 425 (+5.4%) from the 7,824 counted in the 1990 Census.
Bogota was formed on November 14, 1894, from portions of Ridgefield Township, based on the results of a referendum held that day. The borough was formed during the "Boroughitis" phenomenon then sweeping through Bergen County, in which 26 boroughs were formed in the county in 1894 alone. Portions of Bogota were taken in 1895 to form part of the newly created Township of Teaneck. Bogota was named in honor of the Bogert family, which had been the first European settlers to occupy the area, and may also be a blend of Bogert and Banta, another early family, with an "O" added to ease pronunciation.
The borough's name is pronounced /bəˈɡoʊtə/ buh-GOH-tə, unlike Bogotá, capital city of Colombia, whose name is accented on the final syllable. Coincidentally, 1.54% of Bogota's residents are from Colombia.
Complete the form below to learn more about Approved Funding, including our exclusive benefits for Friends of Bogota.
As "A Friend," by completing this form, you will automatically be entitled to the following:
A donation on your behalf to the

Bogota

A Free Credit Report and FICO score analysis
30-minute complimentary Financial Consultation
No Application Fees for any loans with Approved Funding
No Processing Fees for any loans with Approved Funding