"
Friends of Hillsdale
"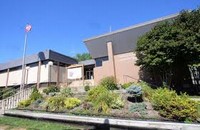 Office: 201-666-4800
380 Hillsdale Avenue
Hillsdale, NJ 07642
The populated area today known as Hillsdale took form in the mid-to-late 19th century as land speculators, led by David P. Patterson, developed subdivisions to profit from the coming of the Hackensack and New York Railroad. The area was incorporated as Hillsdale Township on March 25, 1898, from portions of Washington Township, which had, in turn, been set off from Harrington Township in 1840. Portions of the township were taken on April 30, 1906, to create the township of River Vale. Hillsdale was reincorporated as a borough by an Act of the New Jersey Legislature on March 2, 1923, based on the results of a referendum held on April 24, 1923.
Community Profile
As of the 2010 United States Census, there were 10,219 people, 3,493 households, and 2,843 families residing in the borough. The population density was 3,464.8 inhabitants per square mile (1,337.8 /km2). There were 3,567 housing units at an average density of 1,209.4 per square mile (467.0 /km2).
There were 3,493 households, out of which 40.1% had children under the age of 18 living with them, 69.6% were married couples living together, 8.5% had a female householder with no husband present, and 18.6% were non-families. 16.1% of all households were made up of individuals and 9.6% had someone living alone who was 65 years of age or older. The average household size was 2.92 and the average family size was 3.27.
In the Borough, the population was spread out, with 26.6% under the age of 18, 6.0% from 18 to 24, 21.6% from 25 to 44, 31.0% from 45 to 64, and 14.8% who were 65 years of age or older. The median age was 42.8 years. For every 100 females, there were 95.7 males. For every 100 females age 18 and over, there were 92.5 males.
Complete the form below to learn more about Approved Funding, including our exclusive benefits for Friends of Hillsdale.
As "A Friend," by completing this form, you will automatically be entitled to the following:
A donation on your behalf to the

Hillsdale

A Free Credit Report and FICO score analysis
30-minute complimentary Financial Consultation
No Application Fees for any loans with Approved Funding
No Processing Fees for any loans with Approved Funding