"
Friends of Norwood
"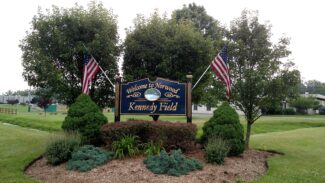 Office: 201-767-7200
455 Broadway
Norwood NJ 07648
Norwood is a borough in Bergen County, New Jersey, United States. As of the 2010 United States Census, the borough's population was 5,711, reflecting a decline of 40 (-0.7%) from the 5,751 counted in the 2000 Census, which had in turn increased by 893 (+18.4%) from the 4,858 counted in the 1990 Census.[
Norwood was formed as a borough by an act of the New Jersey Legislature on March 14, 1905, from portions of Harrington Township.
The territory comprising Norwood was originally settled about 1686 by a dozen or more families mostly from the Dutch Republic, who purchased the land under the Tappan Patent. About that time a grant was also given by Philip Carteret, Governor of the Province of East Jersey, during the reign of King Charles II of England. The Lenni Lenape Native Americans roamed the valley.
The name Norwood emanated from the old description of its location in the "North-Woods". It was a part of Harrington Township, which was formed in 1775 from the northernmost portions of Hackensack Township and New Barbadoes Township, stretching from the Hudson River in the east to the Saddle River in the west.
In 1840, the portions of Harrington Township west of the Hackensack River were taken away to create Washington Township. At that point, Harrington Township was somewhat in the form of a square measuring about 5 miles (8 km) on each side, bounded on the north by Rockland County, New York; east by the Hudson River, south by Hackensack Township and west by the Hackensack River. At that time, Norwood, Northvale (once called Neuvy), Old Tappan, Demarest, Closter and Harrington Park were communities within Harrington Township.
On March 14, 1905, Norwood seceded from its parent Harrington Township and was incorporated as an independent borough.
Complete the form below to learn more about Approved Funding, including our exclusive benefits for Friends of Norwood.
As "A Friend," by completing this form, you will automatically be entitled to the following:
A donation on your behalf to the

Norwood

A Free Credit Report and FICO score analysis
30-minute complimentary Financial Consultation
No Application Fees for any loans with Approved Funding
No Processing Fees for any loans with Approved Funding