"
Friends of Paramus
"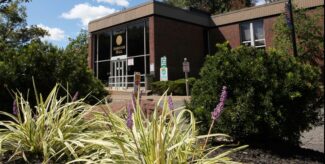 Office: 201-265-2100
Borough Hall
Paramus NJ 07652
Paramus (/pəˈræməs/ pə-RAM-əs[20]) is a borough in Bergen County, New Jersey, United States. A suburb of New York City, Paramus is located 15 to 20 miles (24 to 32 km) northwest of Midtown Manhattan and approximately 8 miles (13 km) west of Upper Manhattan. The Wall Street Journal characterized Paramus as "quintessentially suburban".
As of the 2010 United States Census, the borough's population was 26,342,[9][10][11] reflecting an increase of 605 (+2.4%) from the 25,737 counted in the 2000 Census, which had in turn increased by 670 (+2.7%) from the 25,067 counted in the 1990 Census.
Paramus was incorporated as a borough by an act of the New Jersey Legislature on March 2, 1922, and ratified by a referendum held on April 4, 1922, that passed by a vote of 238 to 10. Paramus was created from portions of Midland Township, which now exists as Rochelle Park. The name is usually said to be of Native American origin, derived from words meaning "land of the turkeys" or meaning "pleasant stream."
Paramus has some of the most restrictive blue laws in the nation, banning nearly all white-collar and retail businesses from opening on Sundays except for gas stations, restaurants and grocery stores, and a limited number of other businesses. Despite this, the borough is one of the largest shopping destinations in the country, generating over $6 billion in annual retail sales, more than any other ZIP code in the United States.
Complete the form below to learn more about Approved Funding, including our exclusive benefits for Friends of Paramus.
As "A Friend," by completing this form, you will automatically be entitled to the following:
A donation on your behalf to the

Paramus

A Free Credit Report and FICO score analysis
30-minute complimentary Financial Consultation
No Application Fees for any loans with Approved Funding
No Processing Fees for any loans with Approved Funding