Shmuel Shayowitz (NMLS#19871) is President and Chief Lending Officer at Approved Funding, a privately held local mortgage banker and direct lender. Shmuel has over two decades of industry experience, including licenses and certifications as a certified mortgage underwriter, residential review appraiser, licensed real estate agent, and direct FHA specialized underwriter. Shmuel provides a uniquely holistic approach to comprehensive real estate and financial matters that goes well beyond any single transaction. Shmuel is an award-winning financier recognized for maximizing the short-term and long-term objectives of his client. As a contributing writer to many local and regional newspapers and publications, his insights have been featured in the media for many topics, including mortgages, personal finance, appraisals, and real estate trends.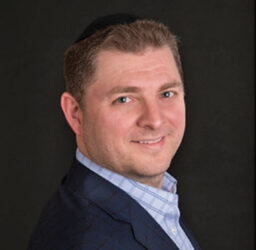 This week I had the privilege of attending the 12th Siyum HaShas celebration. Inspired at the First World Congress of the World Agudath Israel in Vienna in 1923 by Rabbi Meir Shapiro, this program shows us how the work of just one man can leave such a remarkable and lasting impression on so many almost a century later.
Admittedly, my attendance was not unique, as this event is celebrated by hundreds of thousands of people each seven-and-a-half-year cycle of learning. While I have been to several past programs, this was the first time that my father celebrated his first completion of Shas. I couldn't think of a more memorable and proud moment to be sharing with him. I wish him continued good health and strength as he celebrates this milestone, and aspires to his next.
With 2,711 pages in the Talmud, one Daf Yomi cycle takes about seven years, five months to complete: that's quite a cycle. Tehillim 90:10 says: "The span of our life is 70 years, or, given the strength, 80 years," which means an average of 10 Siyum HaShas celebrations in one's life. While I have never gotten too far in the cycle, I admire the steadfastness of those who participate, and know that it is certainly a commitment to be admired by all.
As I was researching homeownership statistics, I coincidently found several very analogous cycles and patterns. According to the NAR Survey of Home Buyers and Sellers, over the past two decades, six years was the average lowest number of years that a homeowner stayed in their home, and nine was the highest during that period. As luck would have it for my article, the median of 9 and 6 is 7.5 years, which is the same as the Shas cycle.
According to the NAHB from data from the American Housing Survey, U.S. Census Bureau and HUD, the average person lives in approximately ten residences during their lifetime. While I know that statistics change based on geographic, demographic and periods, whether it is two years more or two years less I think the illustration remains the same.
The wisest of all men said in Ecclesiastes 1:9: "What has been will be again, what has been done will be done again; there is nothing new under the sun." Life gives us many cycles. We have our seasons, we have our calendar and we have our times. As the new year, and the new decade begins, we start with yet another opportunity. The unique gift of a "fresh start" is that it comes with the advantage of our past experiences.
It says in Proverbs 24:16: "A righteous man can fall seven times and rise." The message that I take from all of the above is that we are given many opportunities in life. We may not always think that we have the tools or capabilities to handle a situation, but that's not the case. We always have the remedy before the ailment. But just in case we don't realize that we are equipped to get it right the first time, we are given more chances to improve ourselves in the situations that repeat themselves.
At home and at work, we are faced with many demands and encounters. Life often moves so quickly that we don't take the time to get it right the first time, and that's why the universe doesn't imprison us within our choices. I certainly don't want to diminish the takeaways from these "lifetime opportunities" that we encounter on an almost daily basis to do a sales pitch. Still, I will say that aligning oneself with the proper tools, resources and people can certainly make this journey of life a lot easier.
Wishing everyone a happy new year and happy new decade; there is no better time to reflect on our "once in a lifetime experiences."
To learn more about Shmuel Shayowitz, click here or complete this form to be connected with Shmuel: