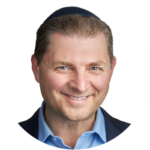 Shmuel Shayowitz (NMLS#19871) is President and Chief Lending Officer at Approved Funding, a privately held local mortgage banker and direct lender. Shmuel has over two decades of industry experience, including licenses and certifications as a certified mortgage underwriter, residential review appraiser, licensed real estate agent, and direct FHA specialized underwriter. Shmuel provides a uniquely holistic approach to comprehensive real estate and financial matters that goes well beyond any single transaction. Shmuel is an award-winning financier recognized for maximizing the short-term and long-term objectives of his client. As a contributing writer to many local and regional newspapers and publications, his insights have been featured in the media for many topics, including mortgages, personal finance, appraisals, and real estate trends.
Stop Predicting. Start Preparing. 
By Shmuel Shayowitz
It was September 2006, and my wife and I had just closed on our new home purchase. Everyone congratulated us as they left the conference room in my office building. A few minutes later, when we were alone, I turned to my wife and said, "Mazal Tov! I think we just overpaid for this house, and the real estate market will crash."
So here we are  sixteen years later, and one of the most common questions that I have been asked to predict is, "will the housing market crash again?" Obviously, I have been thinking about this question a lot over the past two years. In fact, I have been thinking about this topic a lot for more than two years, well before the pandemic catapulted home prices to infinity.
Fannie Mae just published its Home Purchase Sentiment Index for April. Surveyed consumers expressed intensified concerns about housing affordability and rising mortgage rates. Only 19% of consumers believe it is still a good time to buy a home. Minus a few weeks at the start of the Covid pandemic, this is the worst outlook for the index in over a decade.
Yet, despite these dismal estimates, new home sales are hitting record levels. In fact, according to leading housing agencies, many are predicting another stellar year of home appreciation. Fannie Mae and Freddie Mac predict over 10% in home-price appreciation, while CoreLogic and the National Association of Realtors are not too far behind, expecting 9.6% and 8.4% growth, respectively. So if you ask the "experts," they are not expecting a housing crash any time soon.
Speaking of surveys and predictions, I was just looking at some mortgage interest rate forecasts from top industry groups last year, and I couldn't help but laugh. As of mid-December 2021, here is what was projected. Fannie Mae said that mortgage rates in 2022 would be approximately 3.3% on average. Freddie Mac and the National Association of Realtors forecasted a 3.5% mortgage rate. The Mortgage Bankers Association was the boldest of the group, predicting a 4.0% mortgage rate in 2022. My how wrong these experts were. It took less than 90 days to exceed a 4% interest rate by March 2022.
Market volatility is only beginning. This week we saw the DJIA lose over 1,000 points in one trading session. There is plenty of uncertainty between the stock market, mortgage rates, inflation, and home appreciation. People will always have predictions and speculations about where the market is heading. Some will be right, some will be wrong, and most will forget who said what.
When all is said and done, however, with the proper preparation, the market gyrations have less of an impact, and the touted predictions will have much less significance. Unfortunately, I was right about foreseeing that the market would crash after buying our home in 2006. One might ask why we proceeded with the home purchase if I had these concerns about the pending market calamities. The answer is very simple … call me, and I will tell you why.