Shmuel Shayowitz (NMLS#19871) is President and Chief Lending Officer at Approved Funding, a privately held local mortgage banker and direct lender. Shmuel has over two decades of industry experience, including licenses and certifications as a certified mortgage underwriter, residential review appraiser, licensed real estate agent, and direct FHA specialized underwriter. Shmuel provides a uniquely holistic approach to comprehensive real estate and financial matters that goes well beyond any single transaction. Shmuel is an award-winning financier recognized for maximizing the short-term and long-term objectives of his client. As a contributing writer to many local and regional newspapers and publications, his insights have been featured in the media for many topics, including mortgages, personal finance, appraisals, and real estate trends.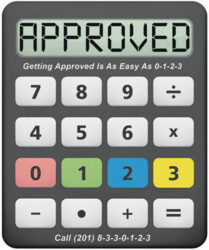 I think the competition is great! Merriam-Webster defines competition in business as "the effort of two or more parties acting independently to secure the business of a third party by offering the most favorable terms". In business, competition is the battle among related providers "trying to achieve similar goals such as increasing profits, market share, and sales volume", by varying their offering of price, product, distribution, and promotion. When true competition exists in the marketplace, ultimately, the consumer is the direct beneficiary.
In the mortgage business, competition is rampant like never before. From mega Super Bowl ads, to online & social profile-marketing, to direct mail campaigns – mortgage companies are tripping over themselves to vie for new business. The regulations that have been imposed over the past few years have tried to make mortgage lending a very analogous and predictable process across the industry. This was done to protect the consumer from predatory loan programs, and to help borrowers be more informed, and better capable of shopping for the best rates & terms. In theory, conventional mortgages are now identical across the board, regardless of where one would apply to get their mortgage.
For the vast majority of loans that are sold into the "secondary mortgage market", it means loan products and programs are the same throughout the industry. Yet, as much as the marketplace has changed dramatically over the past decade, the facilitators (originators) of mortgage loans have remained the same. Most people know that mortgages can be obtained from three major mortgage "makers": independent mortgage brokers (third party originators who place loans with a mortgage lender for a fee), commercial banks (includes local federal or state depository banks and credit unions) or mortgage bankers (direct lenders, who do not provide other banking services other than mortgage lending).
Presumably, in mortgage lending, competition among banks and brokers would lead mortgage companies to offer customers a unique offering – which now seems to have been taken out of the equation. Nevertheless, in their effort to make the marketplace as uniform as possible, something very interesting and unique was created as a result. The more regulators are trying to make everyone "the same", the more contrast can be found differentiating the varying parties to this process. For those paying close attention, the differences are blatant and worth observing.
Brokers, Banks and Lenders
Granted I am biased, but in my humble opinion, a consumer will get the best value by working with a mortgage banker. Commercial or Community Banks have a nice allure as they tout their "personalized" service and relationships – but their regulatory restrictions and bureaucratic processes make most mortgage experiences confusing and unpleasant. In addition, rates and terms are usually worse at these institutions than those of a competitive mortgage banker or broker. On the other hand, mortgage brokers do offer a value-added in obtaining discounted rates from their lenders, but their lack of influence and controls make working with them a challenge. Mortgage Bankers offer a unique hybrid of both a commercial bank and mortgage broker where they get discounted rates for clients while controlling the entire process. Approved Funding is a perfect example of such a mindset and benefit for their clientele.
Licensing & Expertise
Since the "great recession" it is fair to say the banking and mortgage world got "beat up" heavily. Many regulations, restrictive policies & procedures, and quality assurance measurements have been introduced to make sure loan originators, mortgage companies and anyone dealing with residential mortgages are more qualified, competent and proficient than ever before. New licensing and continuing-education requirements have been imposed on all "non-Bank" loan originators. These requirements make the barrier of entry a lot higher ensuring competence for most loan agents. Most, but not all. Loan originators that are employed by federally chartered or state chartered depository institutions are not obligated to follow these prerequisites. That means, only mortgage brokers and mortgage bankers (non-depository banks) have to adhere to these preconditions. That might also explain why the process, the guidance and the advice that a potential applicant may get will vary so greatly from one loan officer to the other. Approved Funding prides itself on the level of sophistication, experience, training and knowledge that our loan originators get on a constant basis.
Processing & Controls
The application and loan process will undoubtingly vary from company to company. This is true of any product, and with any service. When it comes to the processing of a mortgage application, there is a very wide range of difference from one originator to the next. While I am biased with this illustration as well, I believe that mortgage bankers are in the best of both worlds when it comes to managing a loan experience. As a direct lender, a qualified mortgage banker has direct control over the application, processing, underwriting, closing and compliance of each loan from A-Z. Mortgage brokers do not have the same capability, and quite frankly depository banks are too big to know what one department is doing versus the other.
Appraisals
Another area of much anguish and pain in the mortgage world is when it comes to home appraisals. New rules have been implemented to make sure that loan originators and appraisers are not in cahoots with one another when it comes to valuations. They have taken a somewhat simple appraisal process and convoluted it into an administrative nightmare causing delays, inaccuracies and more challenge for most mortgage companies. As a direct lender we have systems in place to ensure we are using local, knowledgeable, experienced and competent appraisal companies who know the area and work hard to determine proper value. It is in everyone's best interest to get it right the first time without the heartache and frustration of having to fight appraisers and underwriters. Fortunately, Approved Funding does not experience many issues of this nature with our fully-compliant appraisal management process.
Underwriting
The high point of any mortgage is the actual loan commitment, (ie: "Getting Approved"). There is no question that having common sense underwriters and decision makers can make this a pleasant or painful conclusion. Yes, we all have guidelines that we need to adhere to, but having the flexibility to use discretion when need be, and good judgement when warranted, can be the difference between a loan approval and a loan rejection. Being able to get on the phone with a decision-maker in a mortgage company is something that is common at Approved Funding, and quite frankly helps us approve and close more loans.
As stated earlier, I love competition. Part of the problem in today's lending environment is that the companies that are spending their monies on flashy ads and expensive online leads are the ones attracting more clients. Unfortunately, that doesn't equate to real competition or benefit to the consumer. Michael Jordan, the basketball legend said it best, "You have competition every day because you set such high standards for yourself that you have to go out every day and live up to that". That is the motto that I and Approved Funding prides ourselves with each day when we come into work and interact with our clients to enhance their mortgage experience.
To learn more about Shmuel Shayowitz, click here or complete this form to be connected with Shmuel: