Shmuel Shayowitz (NMLS#19871) is President and Chief Lending Officer at Approved Funding, a privately held local mortgage banker and direct lender. Shmuel has over two decades of industry experience, including licenses and certifications as a certified mortgage underwriter, residential review appraiser, licensed real estate agent, and direct FHA specialized underwriter. Shmuel provides a uniquely holistic approach to comprehensive real estate and financial matters that goes well beyond any single transaction. Shmuel is an award-winning financier recognized for maximizing the short-term and long-term objectives of his client. As a contributing writer to many local and regional newspapers and publications, his insights have been featured in the media for many topics, including mortgages, personal finance, appraisals, and real estate trends.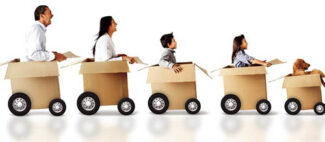 Apparently, May is "National Moving Month," as it is the busiest time of year for relocation. It's astonishing to think that on average, a person will move at least 13 times during their lifetime. Each move comes with different triggers and considerations, often the result of many moving parts.
When it comes to buying or selling real estate, knowing who your potential buyer or seller is and the purpose of their move can help you tailor your negotiations and considerations to emphasize the things that matter most to them. Home Sellers and Home Buyers alike can use information of this nature to their benefit to determine the most favorable times to buy or sell and to maximize their financial objectives.
It should also be no surprise to know that the main reasons for choosing where to live are because of cost of housing, proximity to friends and family, types of housing and convenience to employment. With the proper attention to one's surroundings, a person can find a home before it hits the market or sell to a suitor with a particular and pressing need. Believe me – a good real estate agent pays attention to these items. Here are a few of the major life events that causes an individual or family to move:
Growth
Households grow, households shrink. New additions, family losses, growing children, and expanding careers are but a few examples of how a home can expand up or down. A home will constantly have life events that will trigger the need to trade-up or trend-down.
Relationships
From marriages to divorces, moving next to friends and family, or wanted to be in a certain communal environment, "people" are one of the cornerstones that create a demand for a move in-to or out-of a certain home. By paying attention to the people around them or asking about friends and relatives, one can find a hidden gem that others aren't aware of.
Financial
As much as commute and proximity to work is a factor when homebuyers consider a home purchase – compensation is the primary financial consideration that keeps them or moves them from where they are. Sometimes by just speaking to recruiters or human resource departments, a person can ascertain a potential buyer or seller in the near future.
Age
Age helps determine the location and stages of different geographical destinations. From college housing, to family building, all the way to retirement planning, age alone can be a factor in identifying an easy home buyer or seller.
When all is said and done, moving is a challenging, delicate and expensive proportion. In fact, it ranks up there with divorce and death as one of life's most stressful events. Knowing that your move was as a result of a well considered and financially beneficial investigation will make these events a little more palatable. Of course, when working with a company like Approved Funding, these are but some of the guidance and hand-holding that we provide.
To learn more about Shmuel Shayowitz, click here or complete this form to be connected with Shmuel: