Refinancing a mortgage is a golden opportunity to lock in today's low interest rate for the next 15 or 30 years. While interest rates now are still low, there's a good chance they will be heading up in the coming months.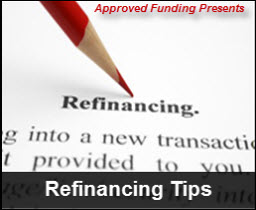 The Fed won't maintain the current bond purchasing level forever, and just as rates spiked in September when the Fed hinted the bond purchasing would change, rates will spike even more when purchasing levels actually do change.
As interest rates remain very low for 30-year and 15-year mortgages, homeowners can benefit greatly from a refinance. Several types of people in particular should consider refinancing.
Carrying A High Rate
Anyone with an interest rate well above today's level should think about a refinance. Unless the homeowner is planning to sell within the next few years, a refinance will almost always save money in the long run if the rate can be lowered by at least a percent.
Switching From FHA To Conventional
Given that FHA mortgages now carry mortgage insurance premiums for the life of the loan, it makes a lot of sense for borrowers to switch away from them when they can. Refinancing may be possible once the homeowner has built up enough equity to qualify for a mortgage from a traditional lender, without the burden of mortgage insurance.
ARM Coming Up On Adjustment
The low rate of an adjustable rate mortgage sticks only for the first few years of the mortgage. After this point, the rate adjusts each year based on market trends. Rather than paying the adjusted rate, which is almost always higher, homeowners can refinance into a new fixed rate mortgage to lock in one of today's low fixed rates for the duration of the mortgage.
Cash Out To Consolidate Debt
Homeowners carrying high-interest debt, like credit cards and personal loans, can often benefit from consolidating it into their mortgage. As long as they maintain at least 20 percent equity in their home, they can get a cash-out refinance for an amount higher than their current mortgage balance. They can then use the difference to pay off high-interest debt.
Reducing Interest Payments
One of the most common reasons that people are refinancing now is to try to take advantage of the lower mortgage rates to reduce the overall interest that they will incur over the life of the mortgage.  Homeowners are exploring lowering the term of their mortgage (for example lowering their original 30 year mortgage to a 25, 20 or 15 year term) or even exploring custom loan terms which allow you to continue the years you have left on your mortgage so that you don't have to start over.
Whatever your need or desire, Approved Funding is able to help guide you through this process to help you achieve your current and long term financial objectives.
For More Information