Shmuel Shayowitz (NMLS#19871) is President and Chief Lending Officer at Approved Funding, a privately held local mortgage banker and direct lender. Shmuel has over two decades of industry experience, including licenses and certifications as a certified mortgage underwriter, residential review appraiser, licensed real estate agent, and direct FHA specialized underwriter. Shmuel provides a uniquely holistic approach to comprehensive real estate and financial matters that goes well beyond any single transaction. Shmuel is an award-winning financier recognized for maximizing the short-term and long-term objectives of his client. As a contributing writer to many local and regional newspapers and publications, his insights have been featured in the media for many topics, including mortgages, personal finance, appraisals, and real estate trends.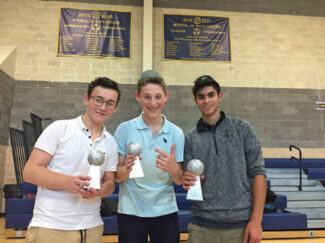 TABC's lunchtime basketball intramurals wrapped up its fall season earlier this month and both the sophomore and junior leagues crowned their champions.
In one of the craziest championship games TABC has ever witnessed, team captain Dovid Shayowitz hit a buzzer 3 in triple overtime to win the crown for team Montverde of the sophomore league. Eliyah Gershon hit a huge triple late in regulation, only to see Shmuel Yablok hit a step back jumper to force OT. Yablok was clutch all throughout the playoffs as he knocked off the #1 seed led by regular season MVP Netanel Eckman, but timely rebounding by
Avraham Gruber and great overall team play was the deciding factor in team Montverde's ultimate victory.
And after a grueling six-game season in the two-on-two junior league, Avraham Glatter and Alex Israel came away with the championship. In the semifinals, AJ Zimbalist hit a game-winning buzzer 3 to stamp his and Max Liebenstern's ticket to the championship, but once the final game started, Glatter dominated the paint with 47 boards and six points to lead his squad to the title.
The TABC Intramural League cycles through basketball and hockey and is open to students in all grades during their lunch periods. It is run by its founder, TABC rebbe Rabbi Jonathan Kessel.
By TABC Sports
To learn more about Shmuel Shayowitz, click here or complete this form to be connected with Shmuel: